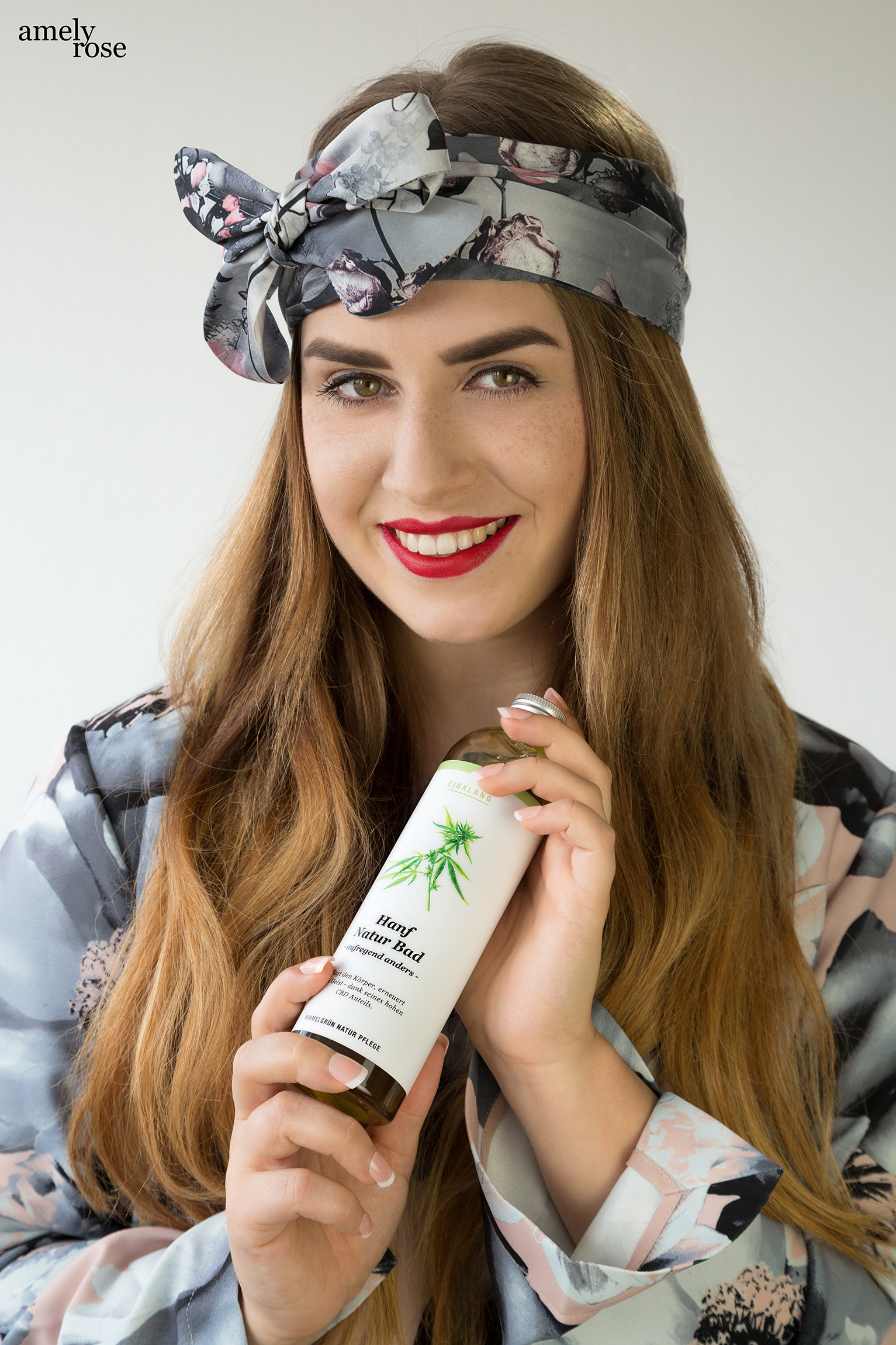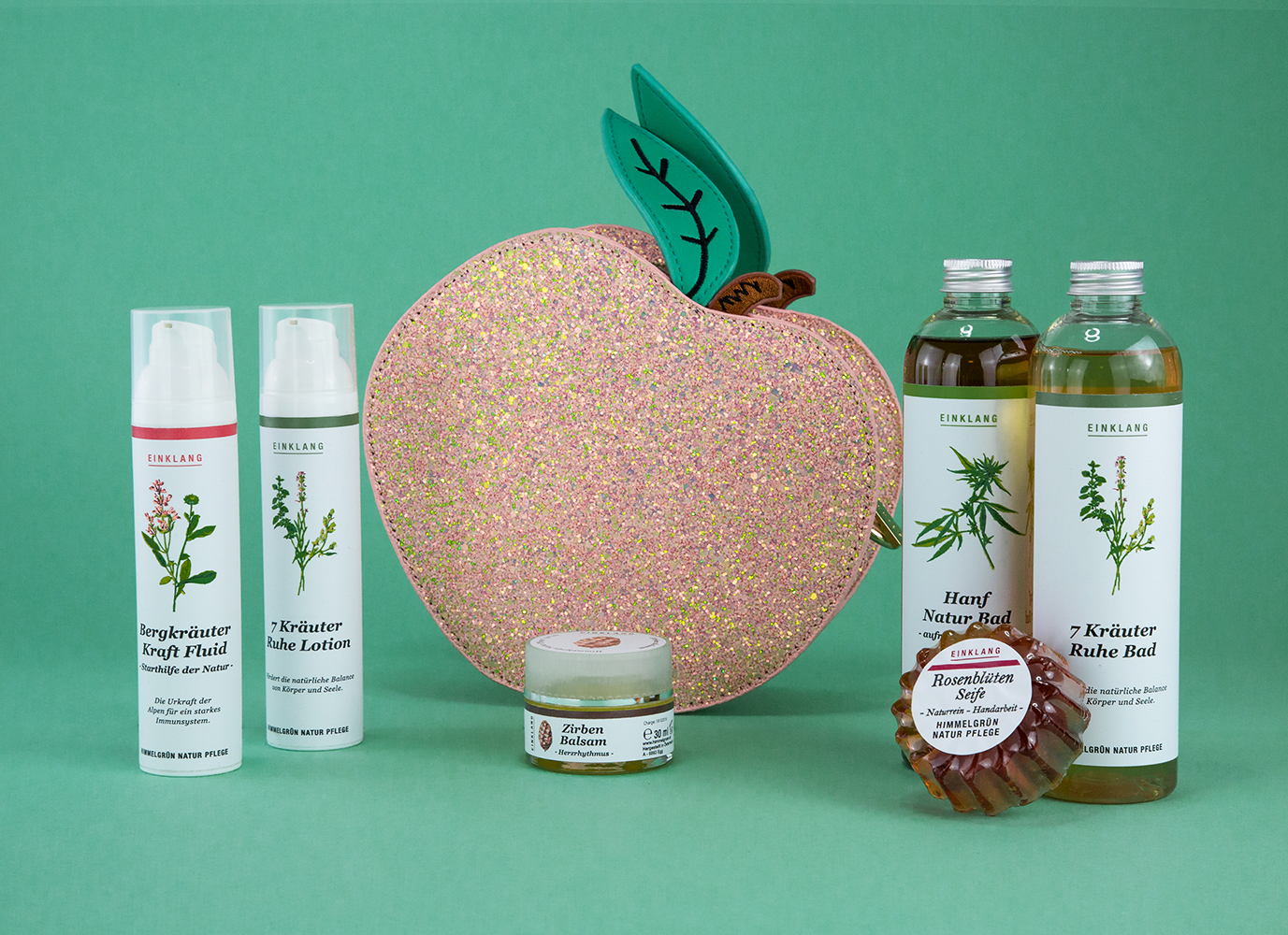 This Blogpost contains advertisement.
I travelled a loooot this year and I was definitely more on the go than the years before.
Travelling was my New Year's resolution but that moment I had no idea, that this resolution implicated so much more than simply packing my suitcase over and over again.
During my trip to Iceland I realized that my skin was at changing weather and circumstances mercy.
Warm, cold, windy, dry… I didn't miss any of these conditions. Luckily I had the perfect beauty products for each change of weather.
That's why I want to show you my favorites.
Himmelgrün (translated "skygreen"):
Himmelgrün is not only an amazing shop with high quality natural cosmetics, but also your chance to buy your own little piece of the Alps: you get that lovely smell and amazing beauty product bottled in a phial. True to the motto "the best of nature" you support a family business with a lovely history and you even get a sustainable product with natural ingredients, mainly herbs.
The thing I like best about Himmelgrün is that they don't fan fear. You don't buy products that pretend to cure multiple, different and probably not even existing women's (and men's) problems. You buy a piece of wellness. True beauty comes from the inside, when you are truly balanced and satisfied.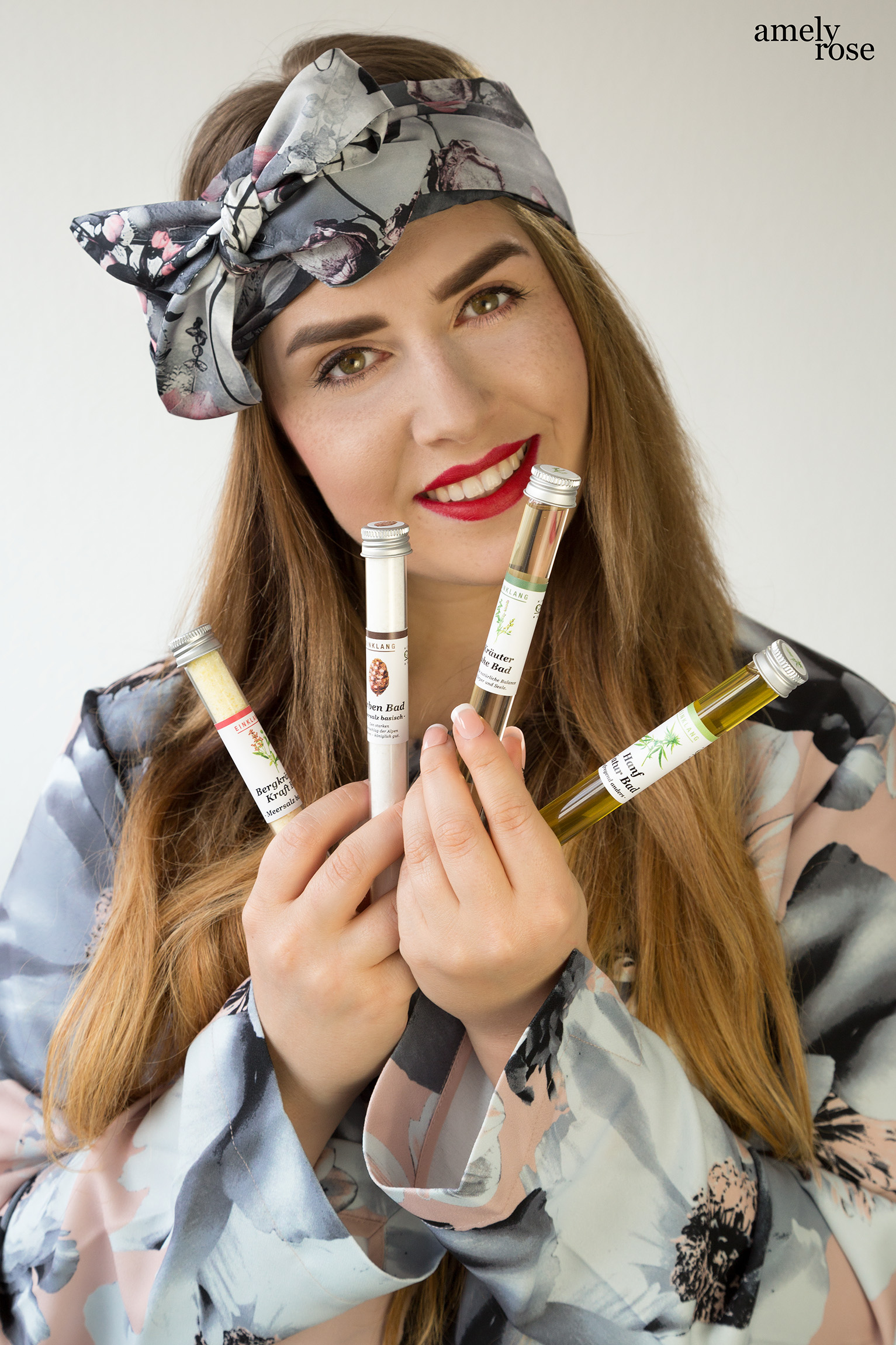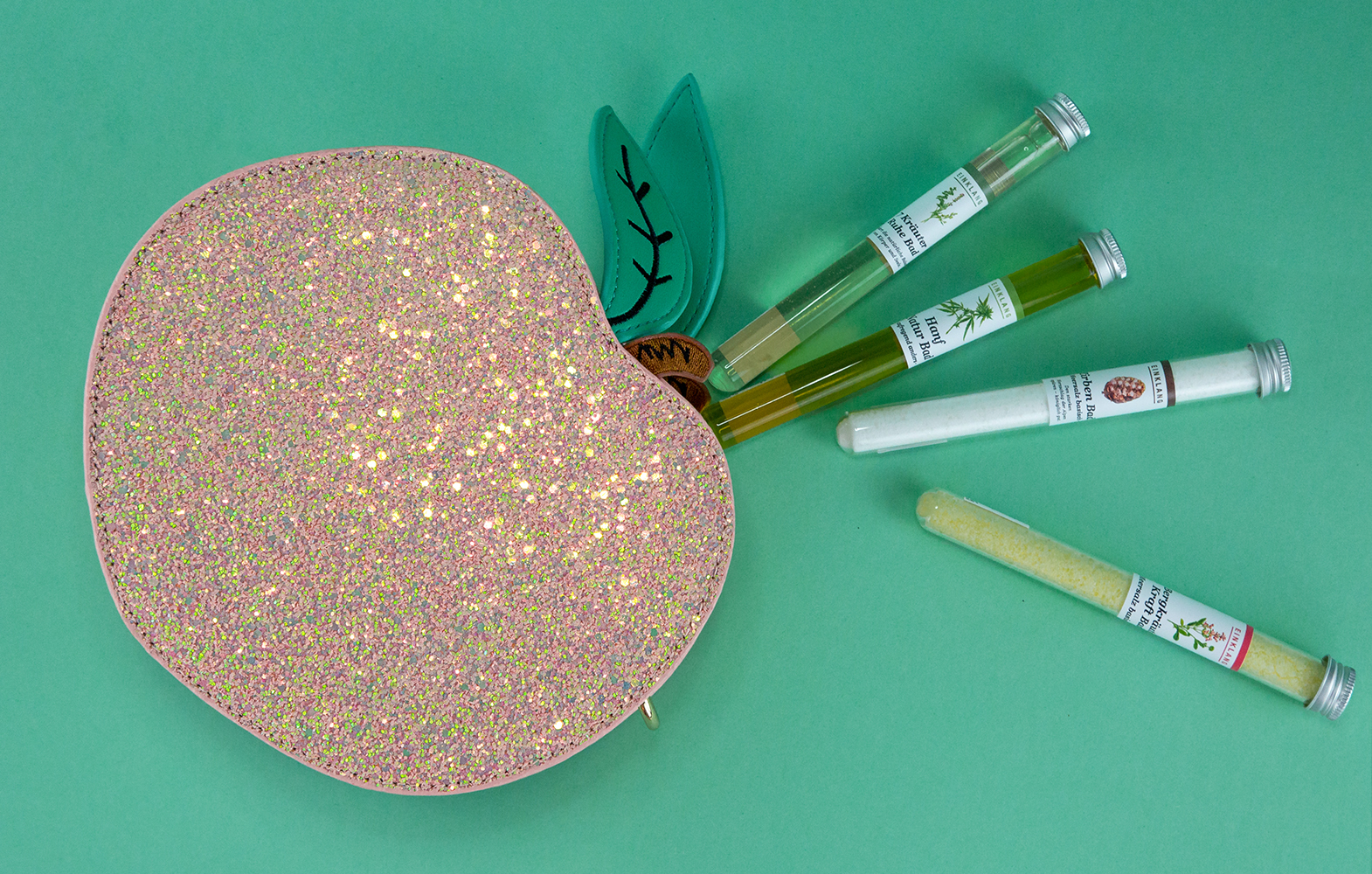 Bath:
I learned so much about "taking a bath", that there are differences and that you can do it RIGHT.
All the components of the ingredients can either support or evoke something. The right care or relaxation – you'll find what you're looking for in the shop.
Furthermore a good, relaxing bath with Himmelsgrün's products is the perfect basis for the ongoing skincare.
My highlights are:
Hemp Natural Bath:
The description "excitingly different" suits this bath supplement perfectly. Hemp isn't that common in beauty products (at least in Germany) and that's why I am always happy to discover new products with this ingredient. Fun fact: hemp is one of the oldest known medical plants.
Hemp as an ingredient in this bath supplement isn't the only "exciting difference", it's also the unusual yet refreshing scent.
This bath is relaxing, antiphlogistic and fear detaching and therefore a helping everyday all-rounder.
Usage: I'd recommend to use 3 tbs. in order to transform your bath into the relaxing highlight of your day.
My secret tip is to softly rub the liquid soap in, rinse it off and then apply your usual skincare.
You get the Hemp Natural Bath HIER or HIER as a small version.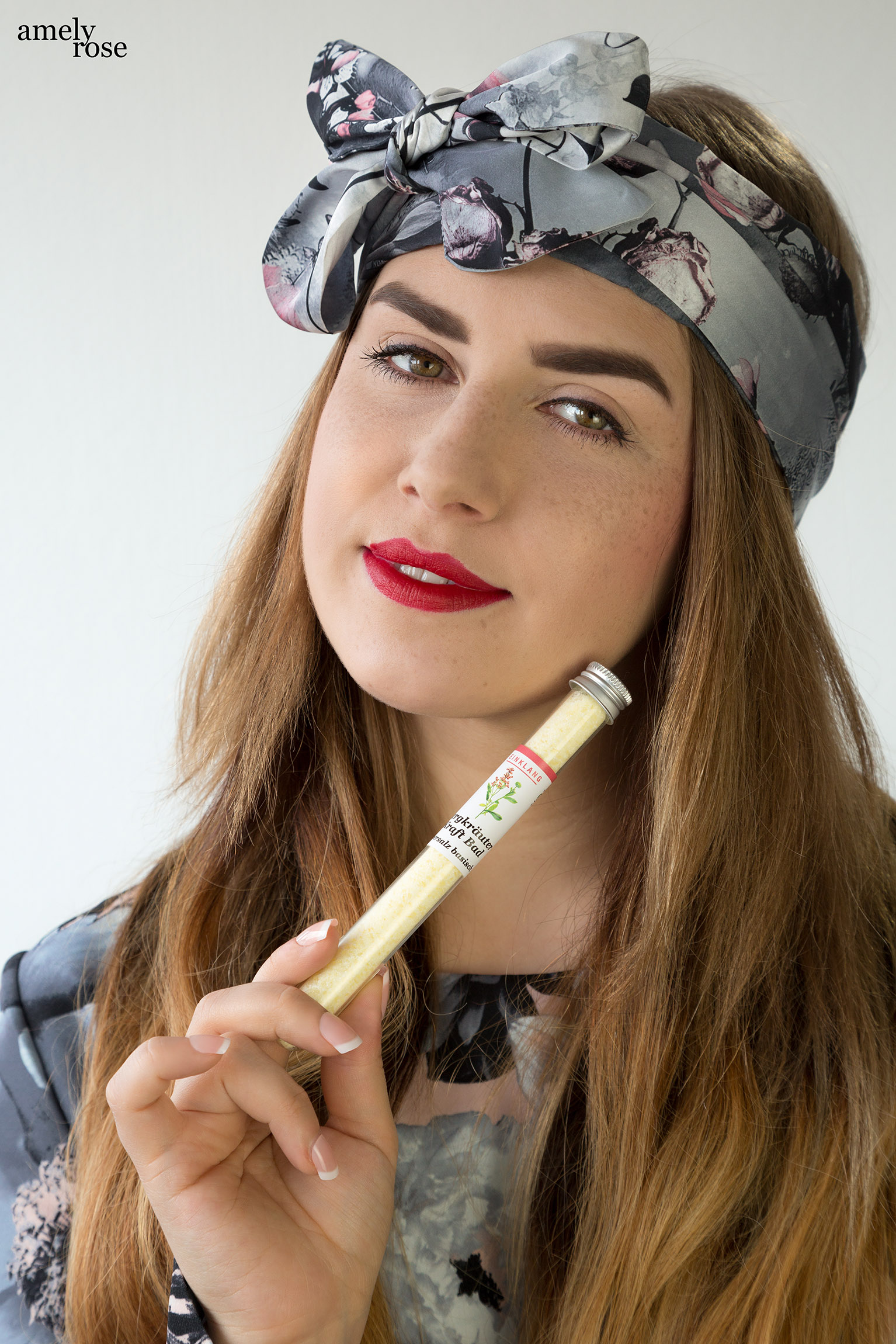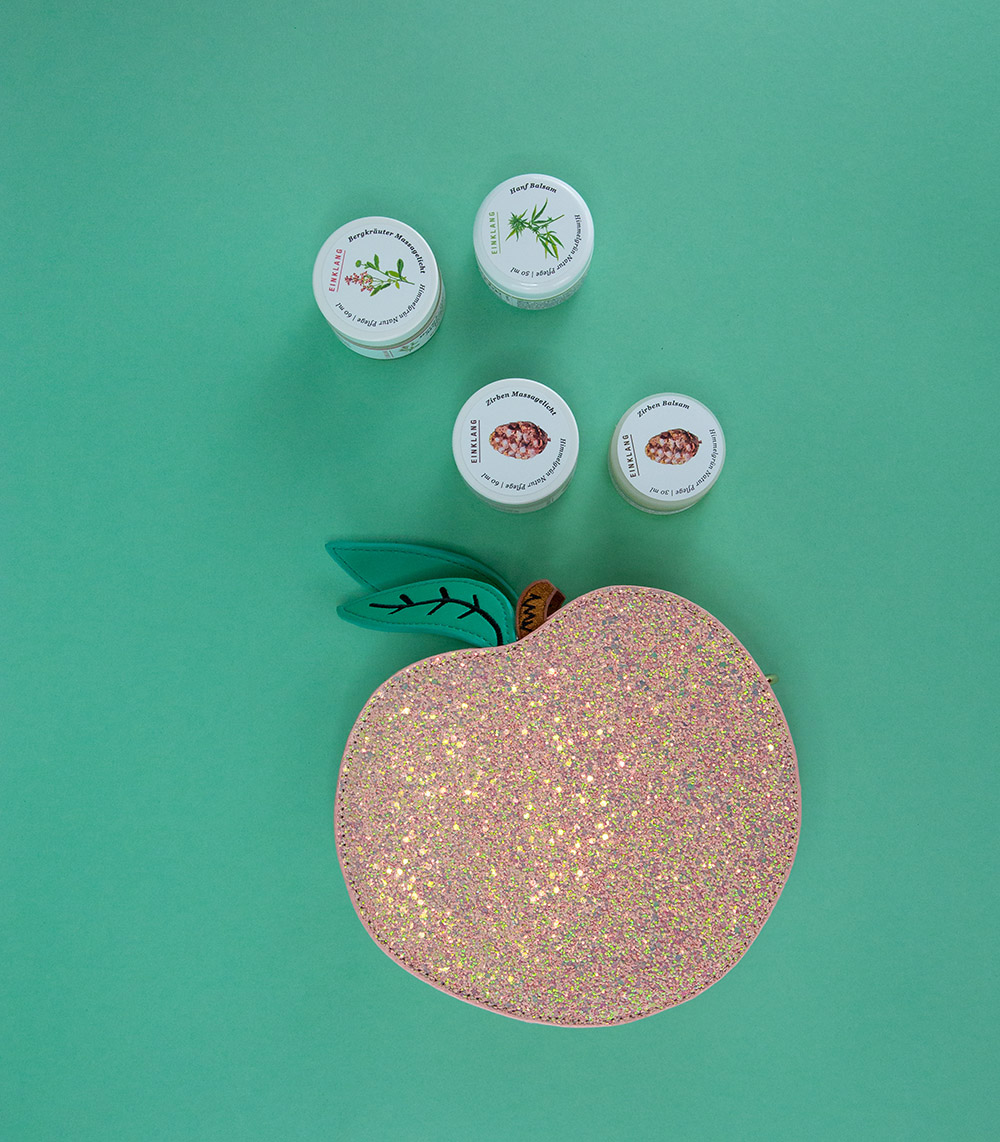 7 Herbs Neutral-Bath:
The seven herbs are the perfect components to create a relaxing time out for yourself. The liquid soap benefits the natural balance of body and soul. The interaction of lavender, melissa, elderflower, hop, marigold and amber bring harmony, calmness and balance to body and mind. Furthermore these ingredients help to regenerate and relax. It's also supposed to prevent your skin from damage and dryness.
Usage: Again I'd recommend using 3 tbs. for this aroma-relaxing-bath. Of course you can apply my secret tip to this liquid soap as well.
You get the 7 Herbs Neutral-Bath HIER or HIER as a smaller Version.
Alpine Herbs Bath:
This bath supplement is my favorite, because one of the ingredients is alkaline sea salt. This appeals regenerating and tightens the fascia, it stimulates the cell metabolism and the fat burning. I don't think I need more reasons to take this bath right now!
Usage: I recommend 3 tbs. For all bath supplements counts: they open your pores and prepare your skin perfectly for any following skincare products.
You get the alpine herbs bath HIER or HIER as a smaller version.
Arolla Pine Bath:
This product containing arolla pine counts to Himmelgrün's highlights, because the arolla pine appeals calming and soothing stress. Furthermore it contains sea salt, that is (as I already mentioned) good for your fat burning and to tighten your fascia.
Usage: Take 3 tbs. to transform your bath into an alpine spa!
You get the Arolla Pine Bath HIER.

7 Herbs Neutral-Lotion:
The combination of more than seven different herbs provide all important nutrients to your skin and form a perfect, soft and calming skincare. The interaction of those seven important herbs pamper your body and soul.
For example: Vitamin E prevents your skin from early aging. Plus it builds a natural skin protection and the ingredients appeal regenerating and calming.
This is why everybody can use this lotion, no matter what skin type you are.
Usage: As I already mentioned, this lotion is the perfect ongoing skincare (after a relaxing bath).
Massage the lotion softly into your skin and use it on a daily base.
You can get the 7 Herbs Neutral-Lotion HIER.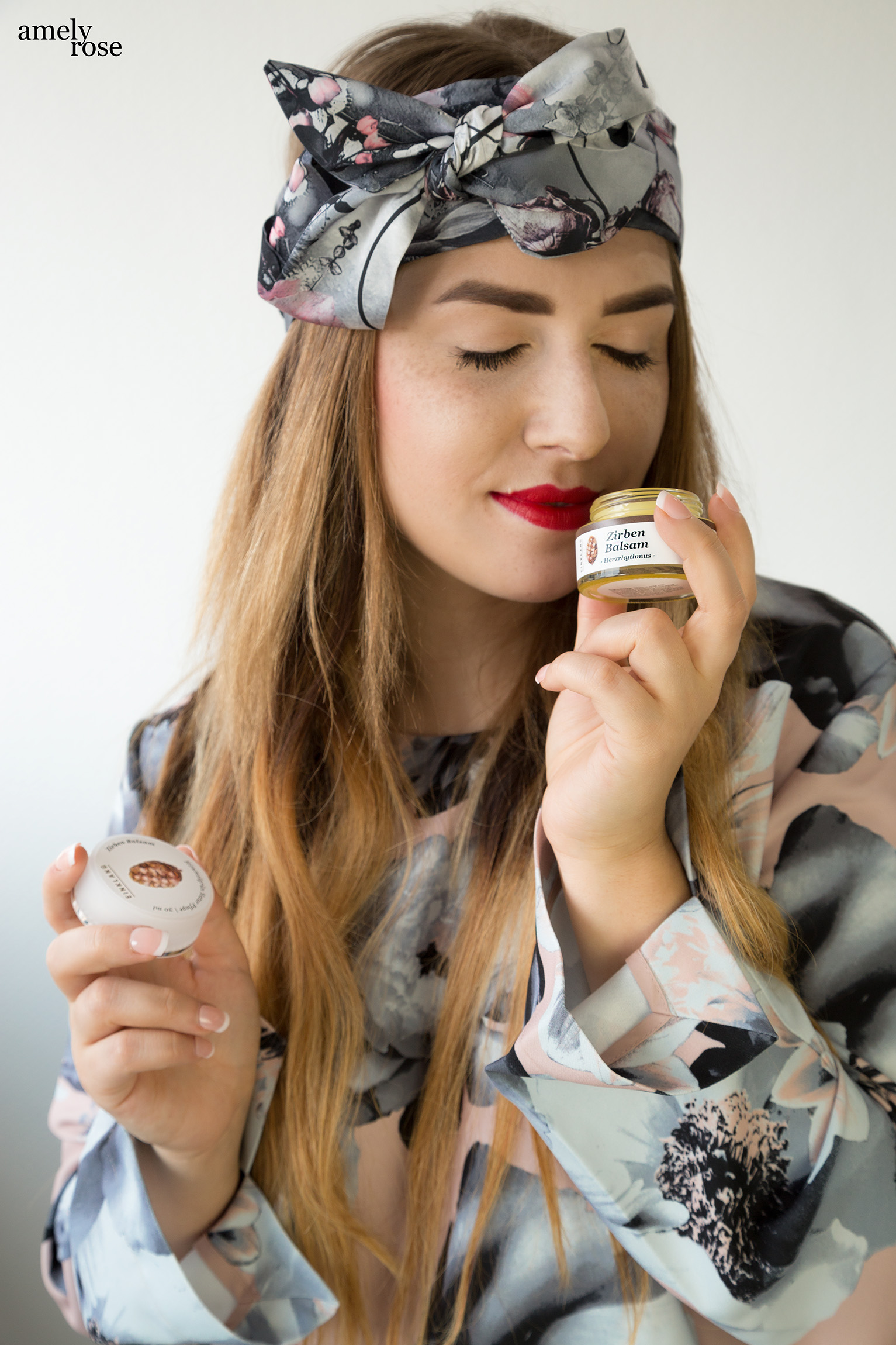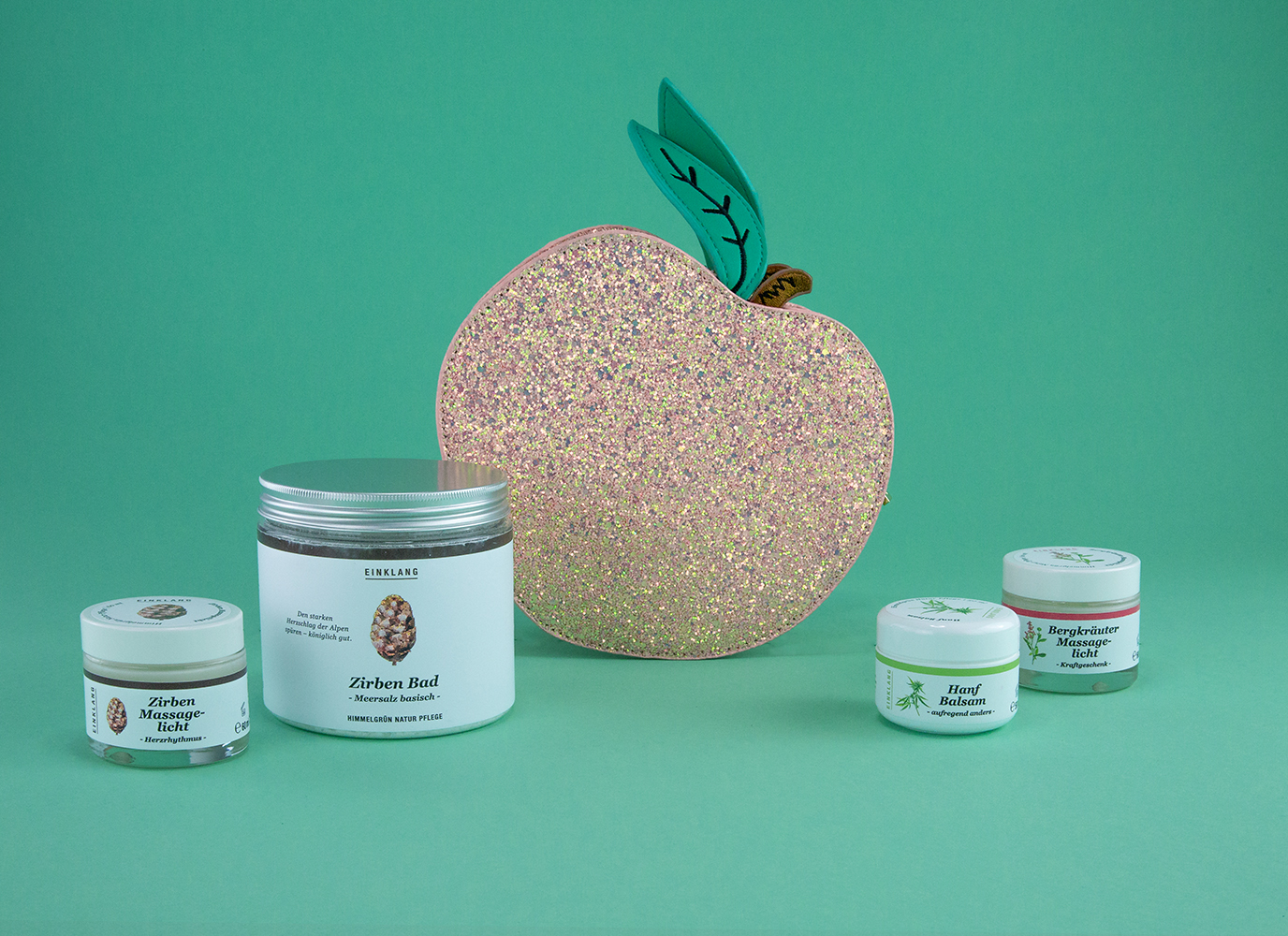 Alpine-Herbs Fluid:
You get your own, little piece of the Alps with this product, bottled in appealing phials. It's more than a fluid of premium natural ingredients – the ingredients come from the Alps and strengthen your immune system.
It smoothens your skin and naturally conserves moisture. This fluid is an all-rounder, it contains wild mint for promoting concentration and thyme for opening your airways.
Usage: This fluid evokes the body's own energy cushions during your morning routine. Or use it after a relaxing bath that opens your pores.
You get the Alpine-Herbs Fluid HIER.
Hemp Balm:
Hemp is one of the oldest medical plants and has a proven impact on your body, skin and soul.
This balm also ensures a smooth skin. It benefits the blood flow and appeals cordial, moisturizing and regenerating anti-aging care.
Usage: This balm is perfect for the reflex zones on your hands and feet. You can also softly rub it on your back and breast.
You get the Hemp Balm HIER.
Massage-Candles:
Today I want to present you something totally new, to me and this blog. I've always wanted to try such a massage-candle, but I was a bit afraid. Now I want to show you my two favorite ones. And I can't tell you which one I like best.
The Alpine-Massage-Candle and the Arolla-Pine-Massage-Candle.
So many senses melt together, because of the warmth, the light, the intense scent during the massage. The composition of herbs is perfect for an energetic (body) treatment und is caring, plus it provides a natural skin protection.
Usage: You light up the candle and pour the liquid, melted body oil on your hands before you start with the massage. A pleasure for the senses.
You get the Alpine-Massage-Candle HIER and the Arolla-Pine-Massage-Candle HIER.
Beauty knows no pain – so true. With Himmelgrün's products you can support your beauty by taking a relaxing bath. Amazing.
I hope you love these products as much as I do.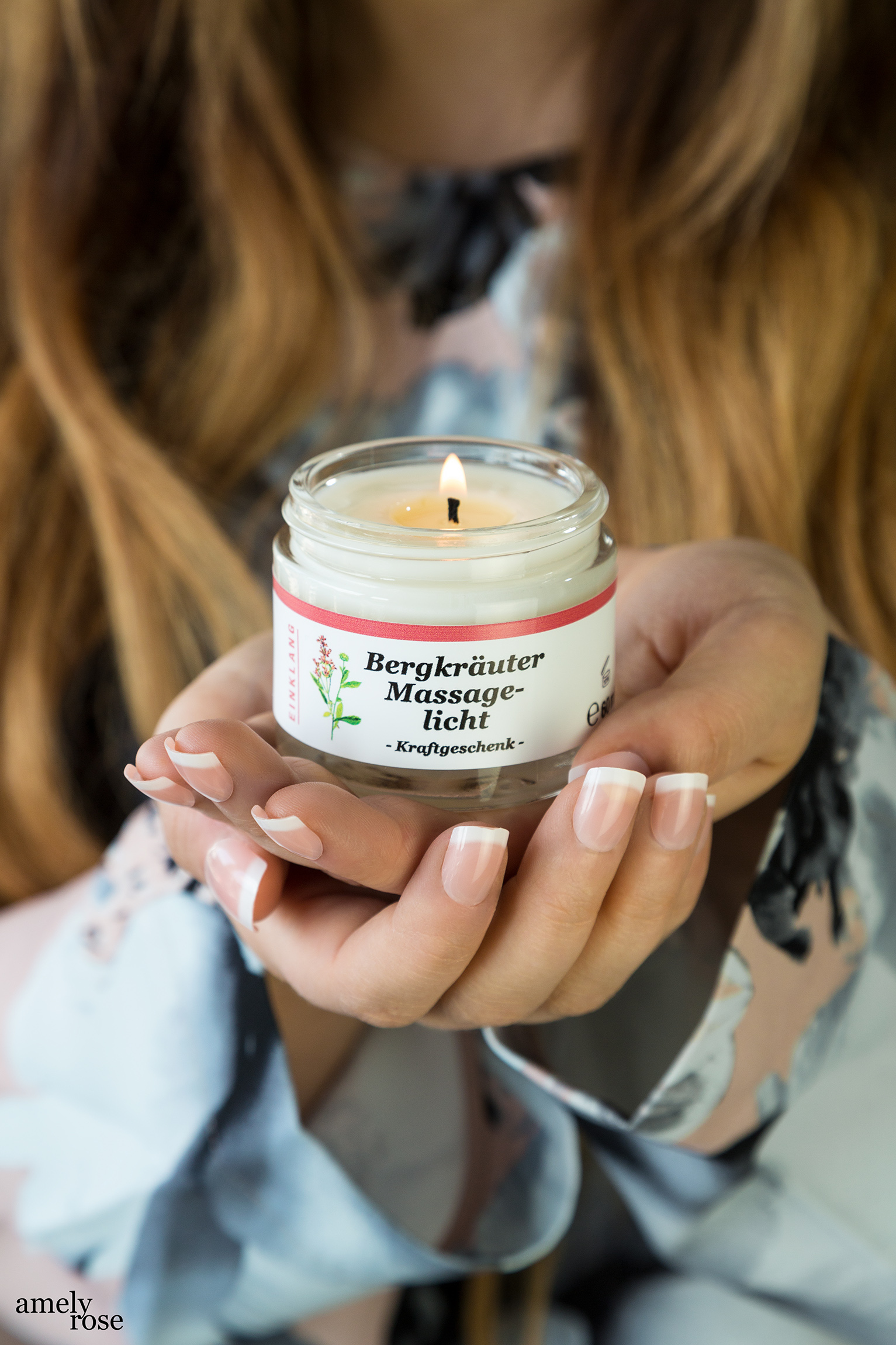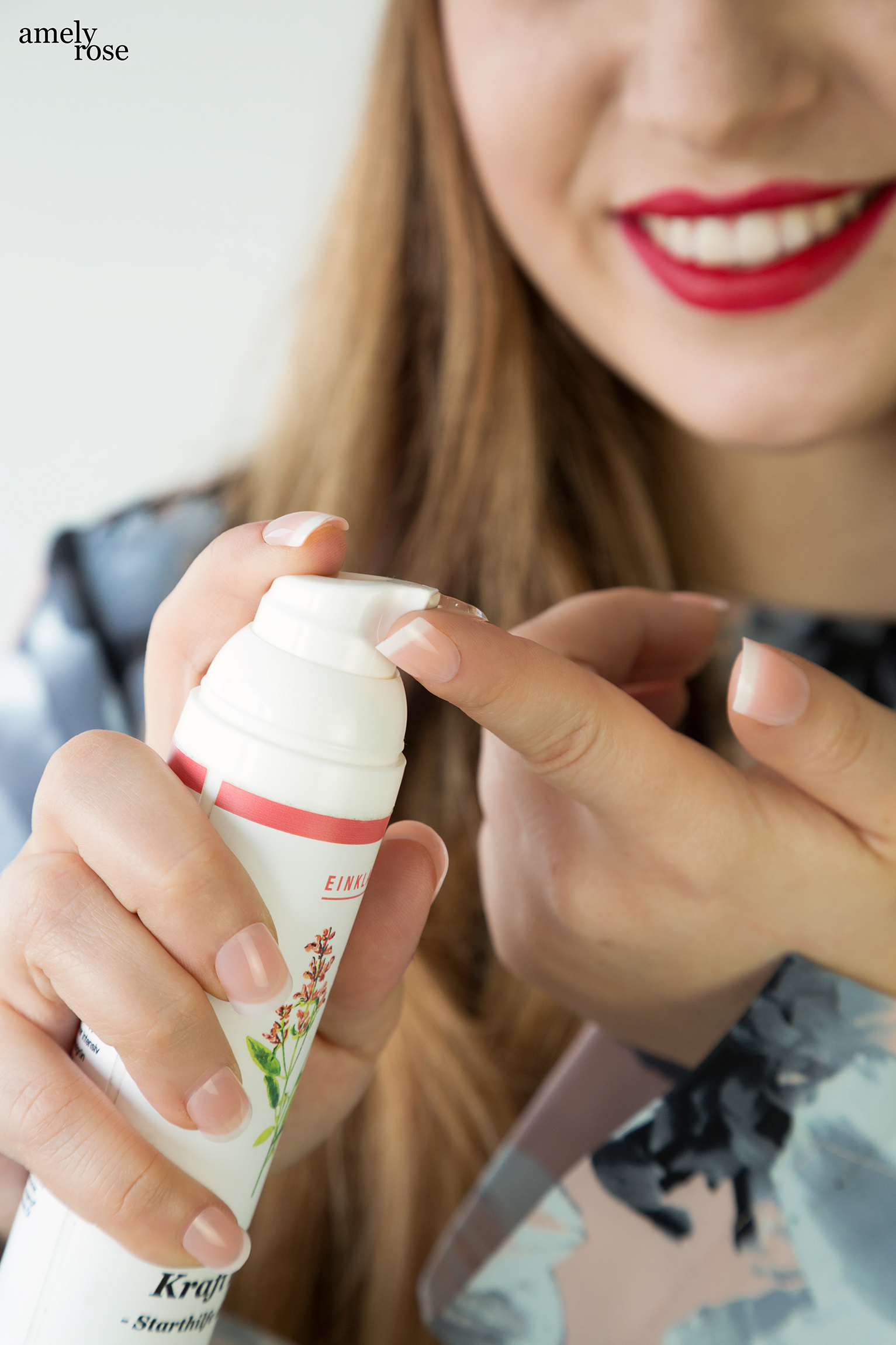 (Visited 334 times, 1 visits today)