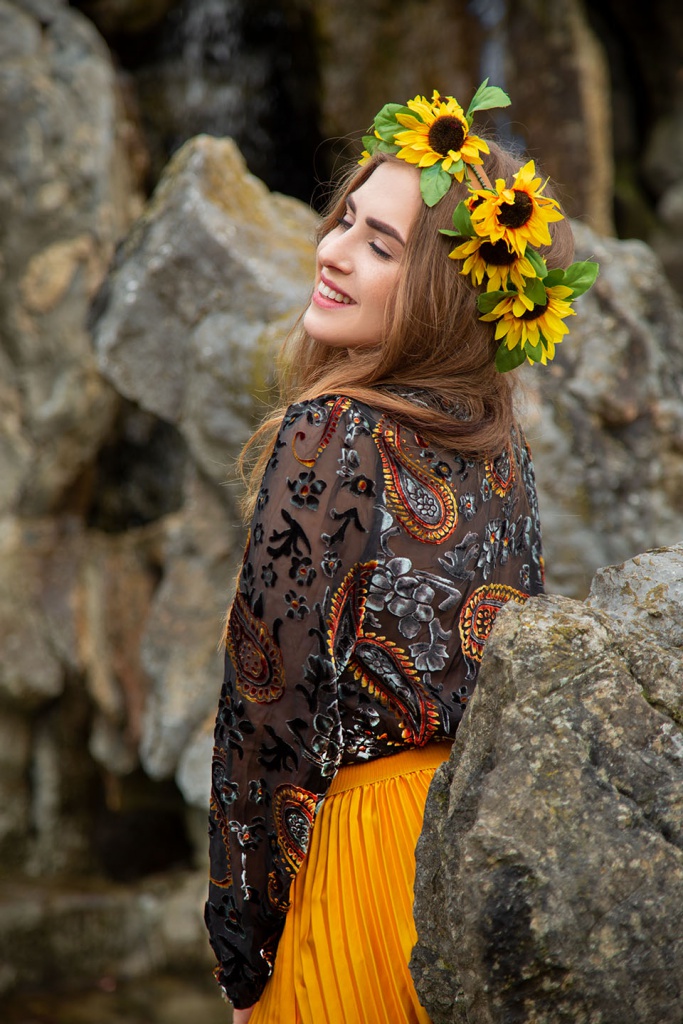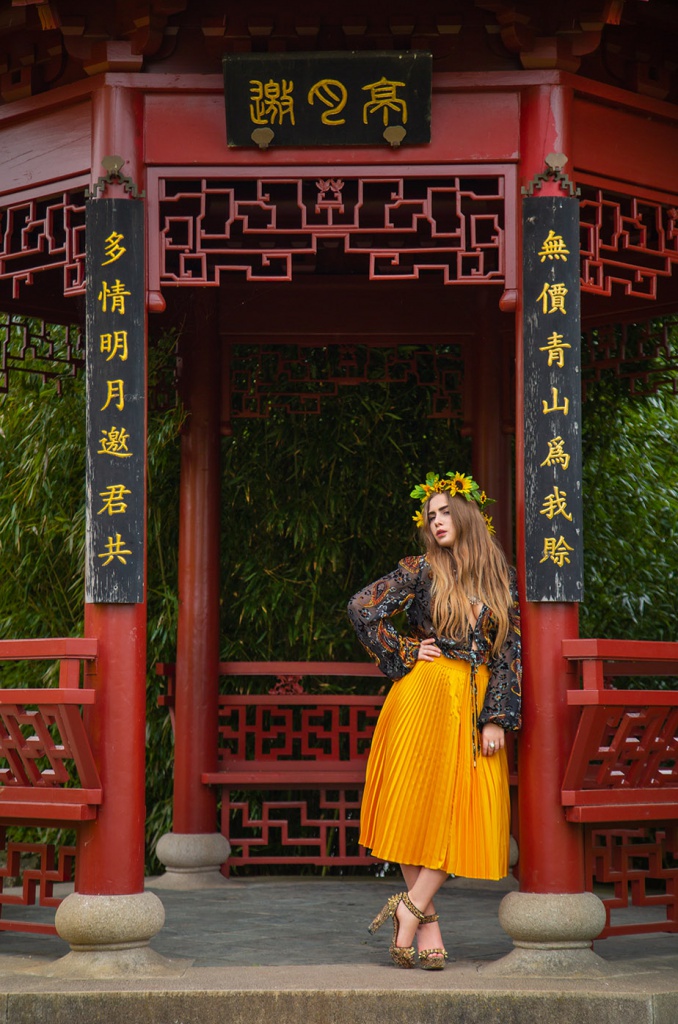 This blogpost contains advertisement.

spring bucket list
Spring is my favourite season. I simply adore the gentle feeling of rays of sunshine on your skin, hearing the birds chippering in the morning and all those pretty flowers. This makes me so happy.
Now it's already march and this is my way to say "welcome spring", I've missed you so much.
Hope you enjoy these spring-pictures I took a year ago in a botanical garden in Berlin. And just in case you don't feel the spring vibes yet – here is a short bucket list. Hope there are some activities you can try and enjoy during the next weeks.
1. enjoy the moonlight, take a walk
Let's be honest, there is nothing as beautiful and perfect as the moon. And you can take a walk at night and enjoy the moonlight everyday (except on new moon 😉 ). But I love it the most during the spring season. It's warm enough to spend the time outside and you can combine it with relishing a beautiful sunrise or sunset. Keep in mind, there are a few amazing full moons to come.
Take the people you love out for a walk, grap a blanket, a good wine or juice and maybe do a picnic.

2. picnic and discover your city
I love a good picnic. You sit outside in nature and eat. How can there be something better than this?!
Combine it and discover your city. Pretend to be a tourist and explore your city. Visit pretty parks and the cozy hotspots.
Ok, I lived in Cologne (a big city) before I moved to the Eifel, now I live next to forests, wooded hills and villages. The perfect location for a good picnic. I plan some picnics on this lovely hill and definetly take some trips to the fairytale-like forests, with some good company or an even better book. 😉
3. do sports (outside)
In germany we say "Frühjahrsmüdigkeit"; this is the tiredness you feel after winter. When everything blooms and grows but you feel kinda slow and tired. The best thing against it are you running shoes.
Put them on and do sports…outside.
I recommend to do it as soon as possible, this way your brain isn't able to come up with good excuses to not leave the warm bed (yet).
And you will feel better afterwards. I promise!
4. the first ice cream
Well, I already had my first ice cream a few weeks ago. BUT there are still many ice cream parlors I want to visit and try their different flavours. Maybe you can do the same. Try every flavour in your favorite ice cream parlor till the end of summer. Maybe you fall in love with a totally new taste.
AND this is a good motivation for your next morning-run. 😉
5. spring cleaning
Dare you to keep on scrolling!
Don't skip this one. It's much needed.
Use the spring-energy and clean your home. I plan a complete renovation! And when you got rid of all the things you don't need, here is my next tip: Visit your local flea markets.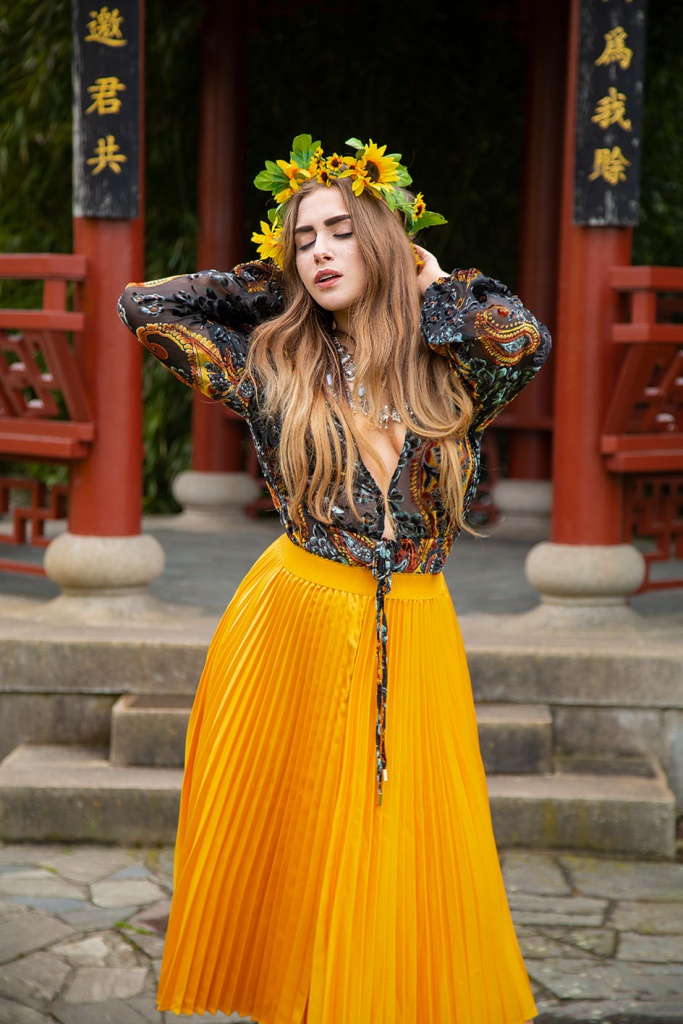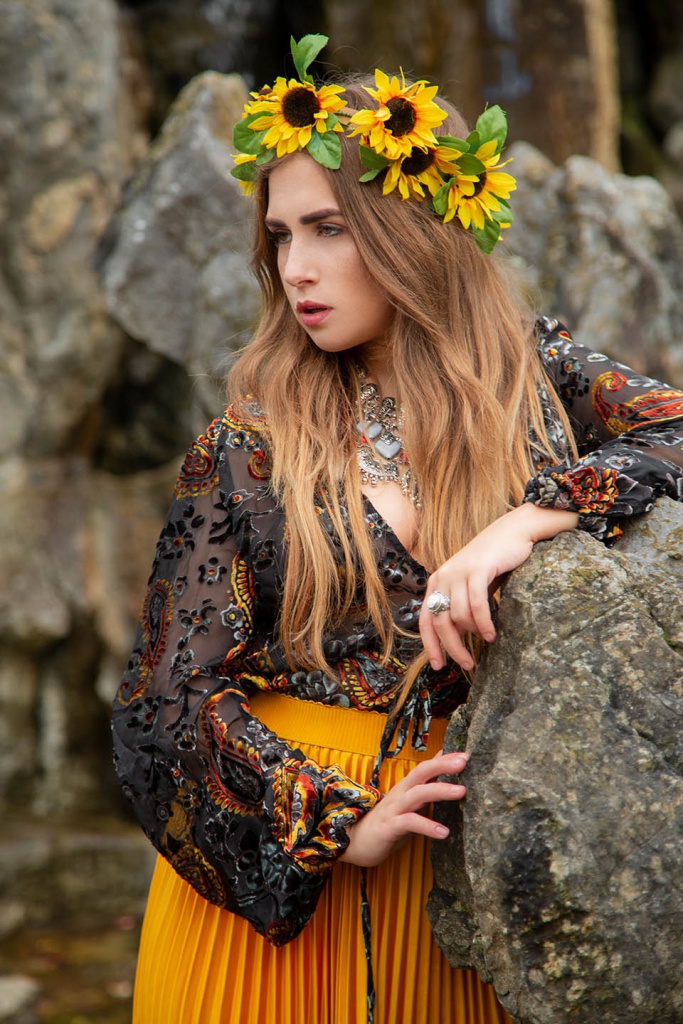 6. dance into may
This is a typical german tradition. We dance into may (31.4 – 1.5.) or you can put a decorated birch tree infront of a girl's door you love.
To be honest, I never danced into may OR got a decorated birch tree. But I am pretty sure to do it this year. Dance into may AND get a birch tree. I put a tree for myself infront of my door if needed. 😉
7. spring = flowers
I love flowers. Buy yourself beautiful ones or plant some in your garden or on your sill. Pick up some wildflowers on a walk (do the walk barefoot, this is the best feeling ever).
And don't forget the obligatory flowercrown. 😉
8. go camping
Go campin. Well a good bonfire and spending a night outside is on my summer bucket list, too. But I missed it last year, so I am thrilled to do it as soon as possible.
Just in case you don't have time for that (well that is no valid excuse), you can always grill in your garden or camp on your balcony. I did it so many times last year and it was one of the best experiences.
You can eat snacks and watch movies AND use your own bathroom. 😉

9. bake sweet things
I love baking. I know, baking sweet things is more a christmas-activity. BUT I never have the time to do it during the christmas time. It's always the most stressful time of the year and that's way I always get into a post-christmasy-baking-mood in spring.
Maybe I should try some cute cupcakes?
10. find the perfect scent
When I think about spring I tend to think about sweet scents.
Flowerfields, freshly mowed gras, the terra's smell after rain. This is the best time to find your perfect scent.
I love "Alien" by Mugler. You can find it in the Douglas-Shop. Just take a look, maybe you get some other spring-items, too.
Dou you have a spring bucket list?
What are your favourite spring activities?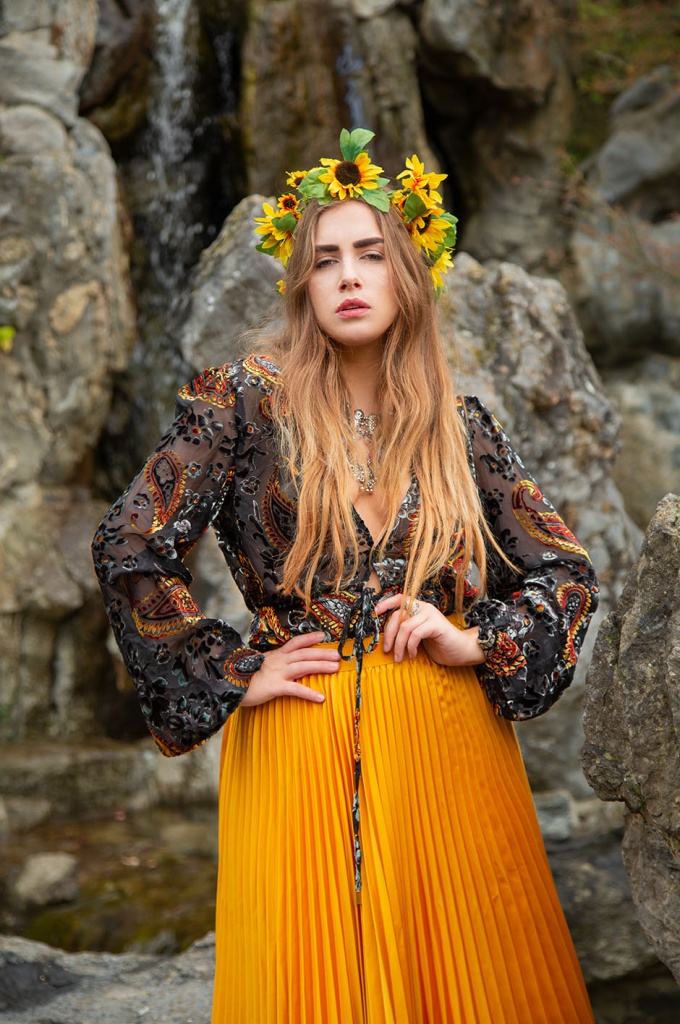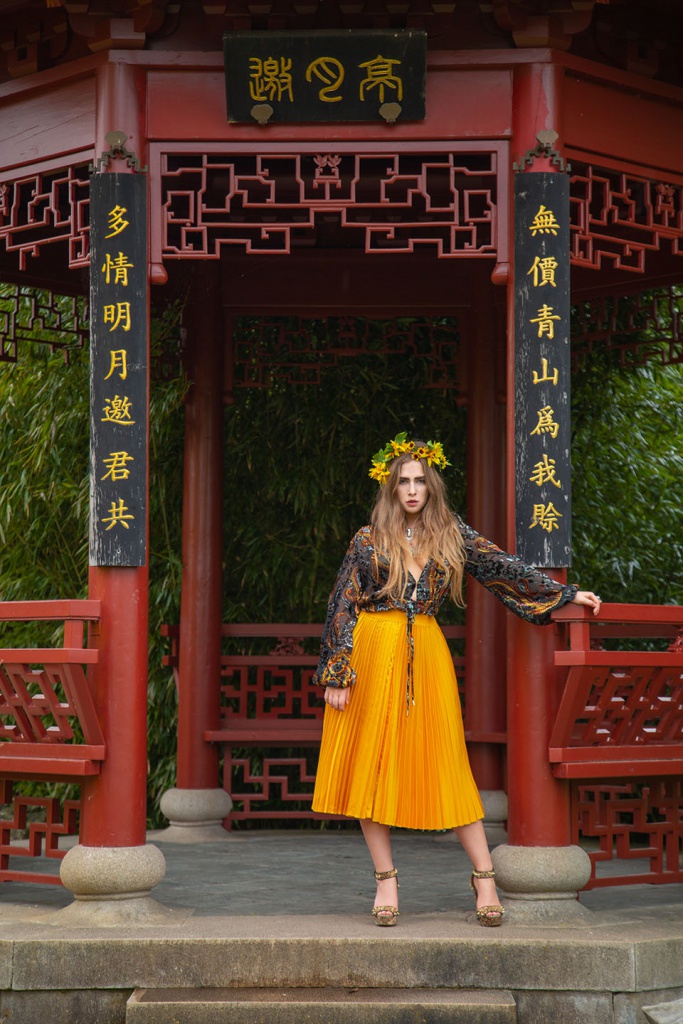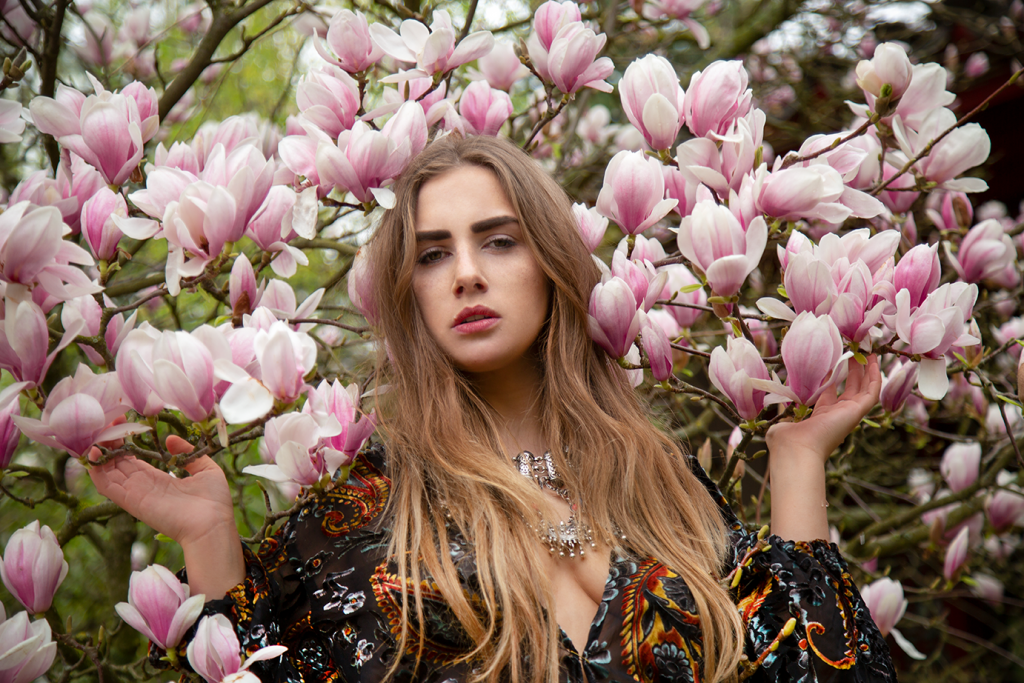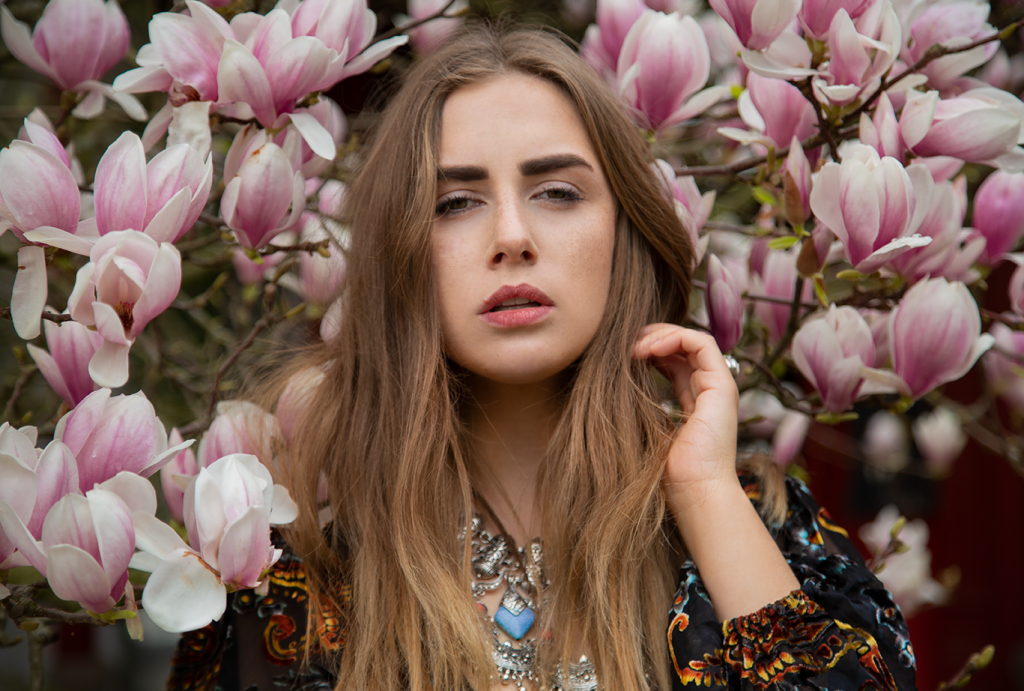 *This blogpost contains advertisement.
Just a normal shooting | fail – storytime
I love showing you new, extravagant pictures.
Other than my Blog-workmates, who come off very well with ther concept: always posing infront of the same naked wall, holding a coffee mug in their hands and a shy smile. The same picture….again and again…just with other clothes.
It works for them….pretty good. But not for me. I like it more…adventurous.
And you guys seemed to notice that, because I get that one question quite often: Can you tell me, what a normal shooting looks like.
Well, my shootings aren't "normal" and after all those years I got used to all the stress and chaos.
I can't show you a picture, not even a single one, for which I didn't push the envelope. I climbed so many fences, got biten by donkeys and got an electric shock while I tried to pose with a camel.
But I DO have a favorite shooting-story. This one happened a few years ago but still I adore talking about it and to be honest, I never had such a shooting…again.
I tried to take an amazing Halloween-picture with my 2 best friends. And what is better than pumpkins during this special time of the year? We got really excited when we found a field full of pumpkins. We should've noticed, that this was too good to be true. Why should this many pumpkins lay on a field before halloween? Just to make it clear, here is the end of the pumpkin-story, so you actually realise how useless this entire….attempt to take the perfect halloween-picture was. Well, this was not a "normal" field, but a huge compost heap. The pumpkins roted there and it smelled soooo badly. Unthinkable to take good shot under these conditions. Not to mention, that I was wearing a huge and beautiful ball gown. There was no way, to lay down in that dress, next to all those rotten pumpkins.
So the trip started and we packed everything into the small car. And with "we" I mean: Myself, the model, the photographer and make up artist – ahh and Frank. Frank is my 1,80m skeleton. While others have beautiful flower vases or invest in amazing artworks, I bought myself a huge skeleton.
Of course we put Frank on the back seat and also put on the seat belt.
Sadly we couldn't get to the "pumpkin field" by car but still we didn't want to give up. Oh my dear, I wish we did!
After a while we became cocky and drove down a muddy path, during a rainy autumn-day…with a car, that wasn't able to drive under these circumstances. To be honest, we, the driver and co-drivers plus Frank weren't able to get through taht situation under these circumstances, too.
A moment later we realised, that the car got stuck in the mud. Well shit!
We weren't able to avoid getting out of the car and try to sort out the mess again, somehow. We pushed and pulled and tried to move the car. Btw. I was still wearing the huge ball gown!
BUT I realised it and tried to cover myself and the dress with…garbage bags, to not get dirty. Not my best idea. But let's be honest, we didn't have many good ideas during that day. Anyways, no matter what we tried, we couldn't move the car. Not even an inch. Yet we pushed our feet deeper into the mud and fell into the sludge many times.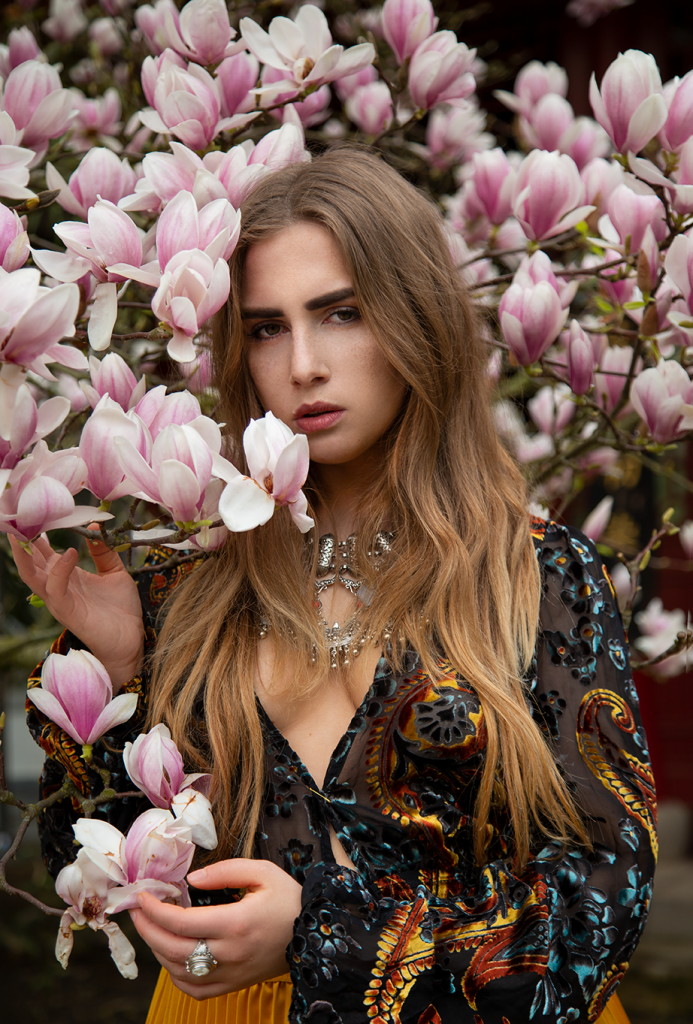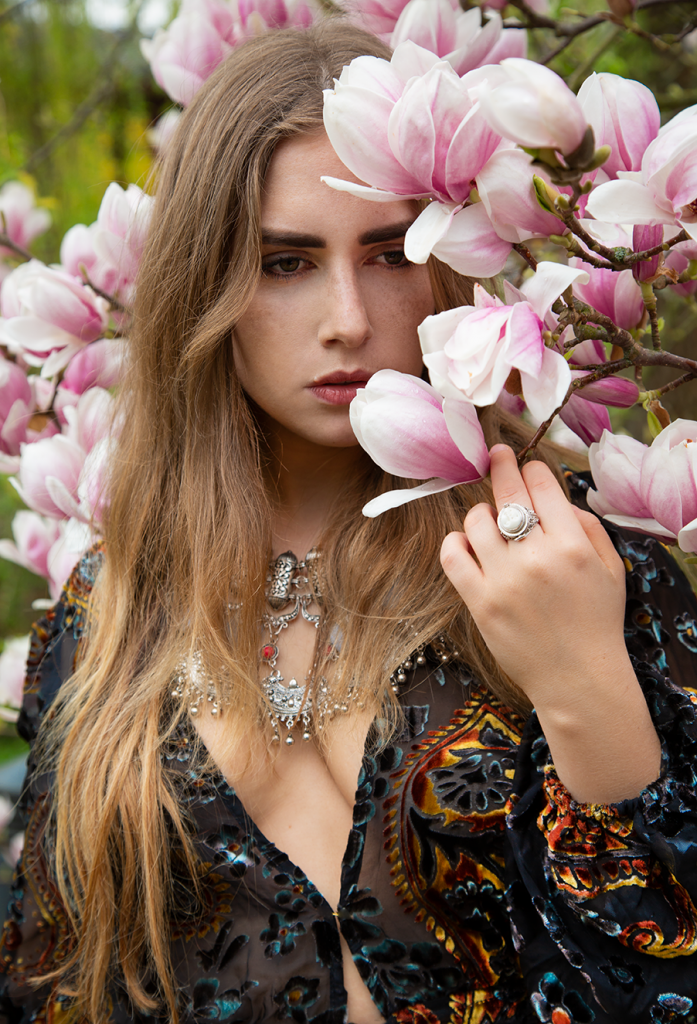 Finally we realised, that the situation was hopeless. So we left the car and walked back to the small city to find someone, who could help us.
Well, we didn't find a person, who helped us. And I have no idea, if the residents weren't cooperative or if they wanted to avoid us because of our appearance. 3 girls covered in mud and one of them wearing an amazing ball gown and smokey eyes.
After a while we made the first good decision and called a breakdown service. The breakdown service came and…the man was totally overchallanged!
Even he had problems getting to our car through the muddy path, although his car was huge and looked like it was perfect for these conditions.
But while he could take a look at our mishap, he saw 3 girls, nervously and impatiently hopping from one foot to the other. We tried our best to explain him that and why we had a skeleton in our car. Of course Frank was still belted on the car's back seat.
And it wasn't helpful in anyway, that Feary answered the question, what we are going to do with a skeleton, with "transfer of remains".
After a while and our shout of encouragement, the man got our car out of the mud and we decided, that the best idea was, to drive home as fats as possible, to avoid more chaotic situations.