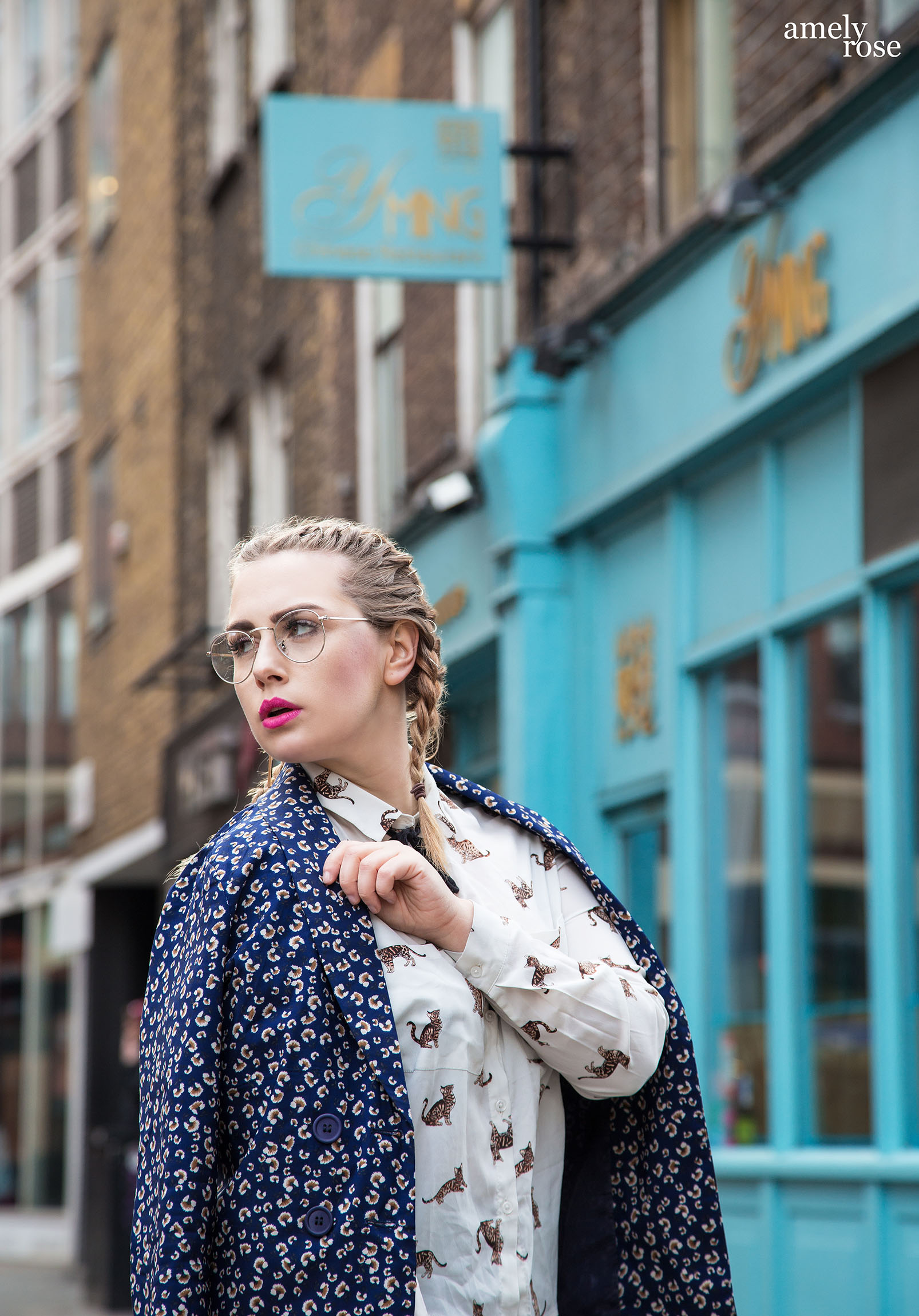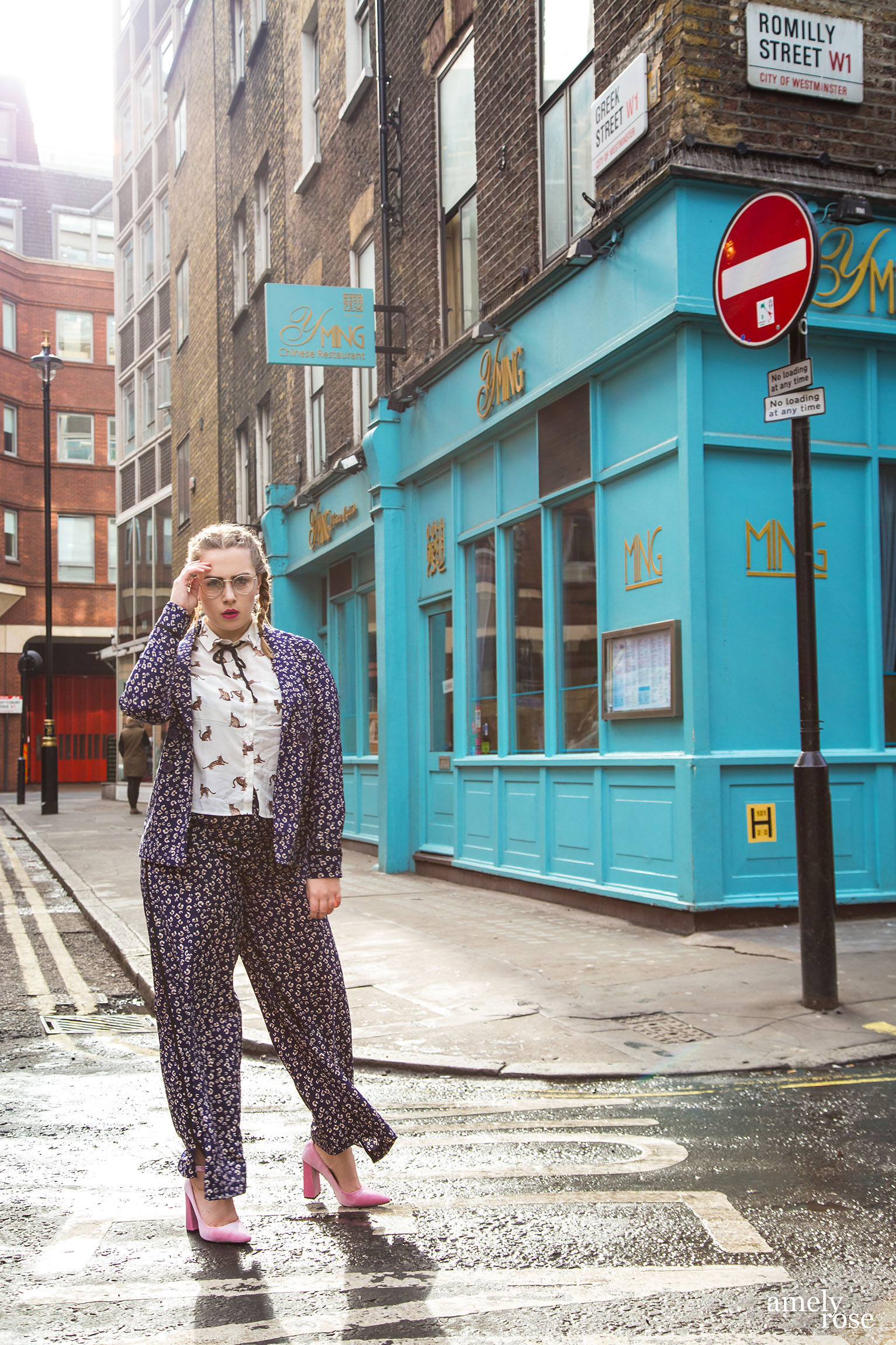 *thank you so much fat jellyfish for the amazing pictures!!
* Photos: by Frédéric Sapart

WHAT I WEAR: two peace: Asos | Catprint Shirt: newLook | heels: Public desire |
You want to know the address of this location – find it  HERE
Blue restaurants are totally my thing.
And yes, right now I am talking about the color (blue) and not the eating place per se or the food.
Okay, it's always quiet shrewd to have a snack-place next to your shooting location – but this is secondary.
When you take a closer look at my Blog, you'll probably recognize in my header (on the top of my Blog)
the young Amely Rose-Version. With fire-red hair, a feather headdress, an american flag swimsuit, sitting on a table. And where is this young Amely Rose?
Yes, in front of a blue restaurant. Relatively not that glamorous.
Nonetheless, this is my very first serious try as a Fashion-Blogger and til this day my favorite picture.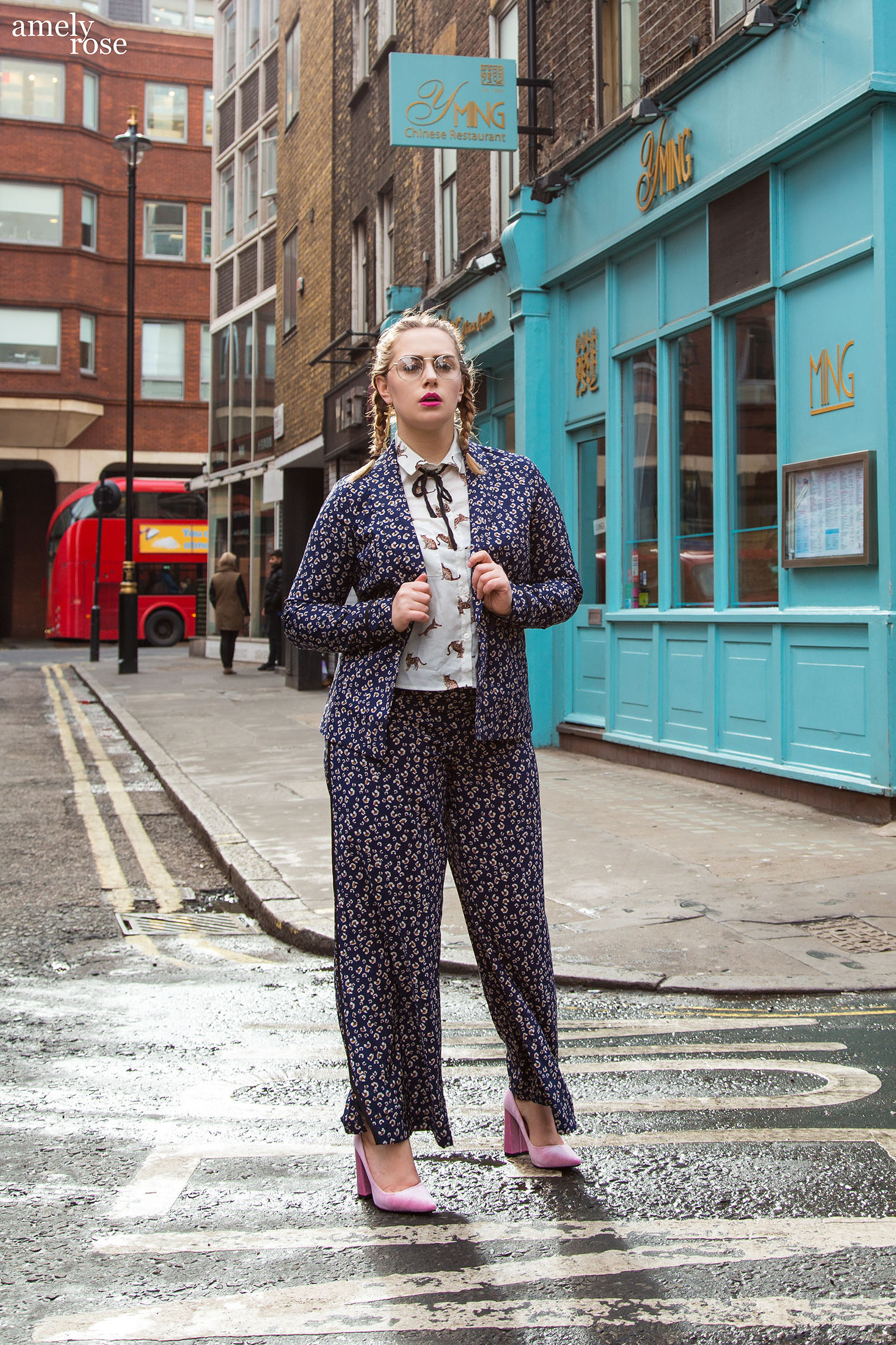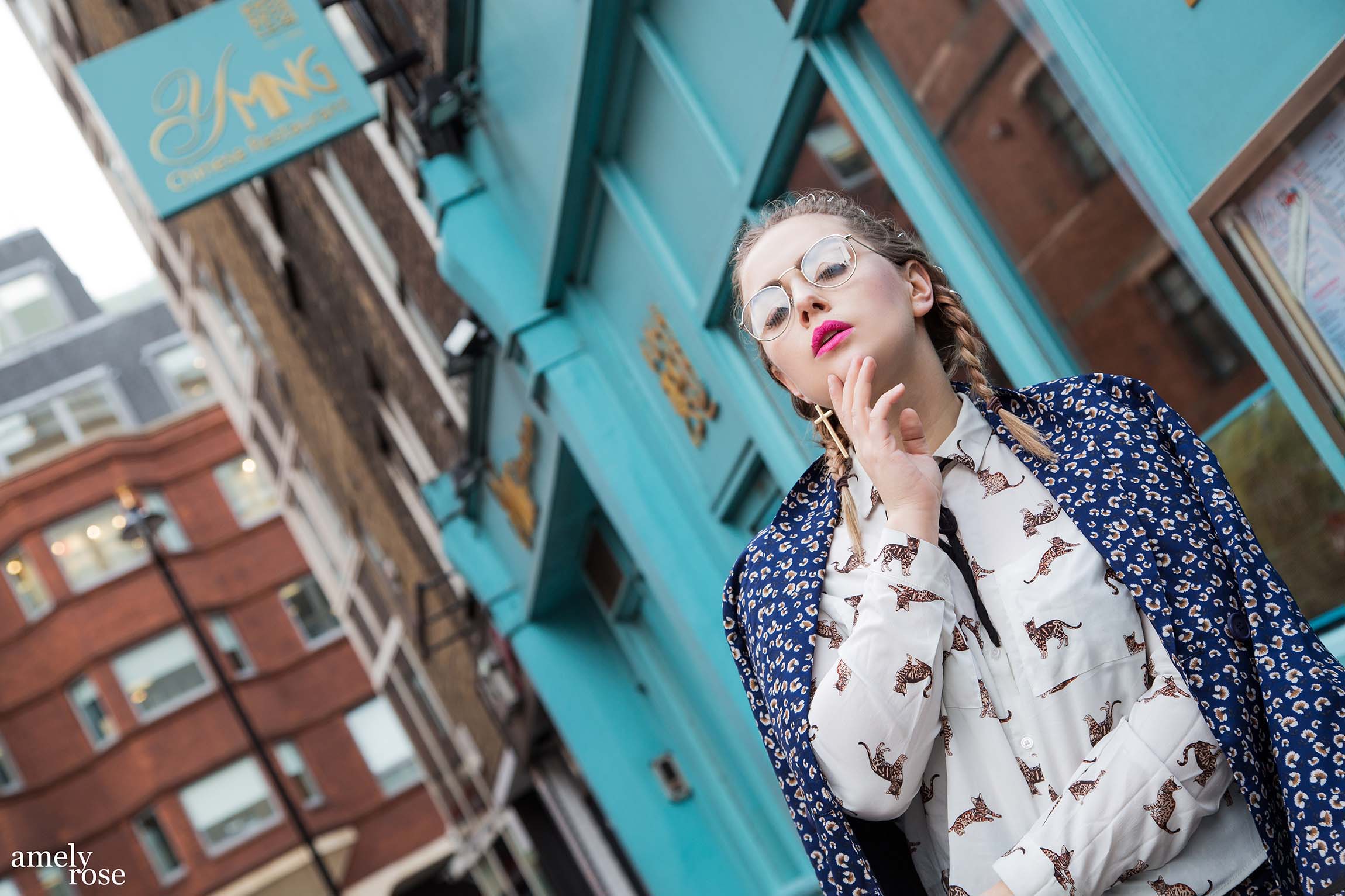 You can Imagine how happy I was, when I found this cool blue restaurant in London.
It's funny how distant subjective and objective assessments are. I have to admit that, on the one hand this location is everything but beautiful. The wallpaint exfoliates, it is whiffy and garbage bags
tower on the streets. In short, this is one of those typical impasses, you would never ever enter.
In the same time, I fell in love with this spot. I almost had to force the fat jelly to shoot there.
But honestly, this is one of my favorite spots of Land in London.
In my eyes, as a person who's never visited and touched the american ground, this is how I imagine New York and it's special charm.
Mostly street in which the last sunbeams reflect, colorful highrises with golden letters, white paint
lettering on the streets and me posing wildy next to the road traffic.
I'll keep my fingers crossed, that there will be a blue restaurant in Iceland too – our next stop.
This will may be my thing. Others collect beer coasters from different cities and bring shelss with them from all kinds of beaches…I collect virtual and digital blue food stalls and restaurants.
That's because you see, this look wasn't photographed in germany, but on my trip to London. Furthermore it is the first outfit we took ashot in this bright city. You already saw the first look HERE and both are my favorite pictures, looks and location.
This one was taken in the middle of Soho and it somehow embodies the grown, suitable for the daily use – Londoner Style. Adult, yet I don't take myself too seriously.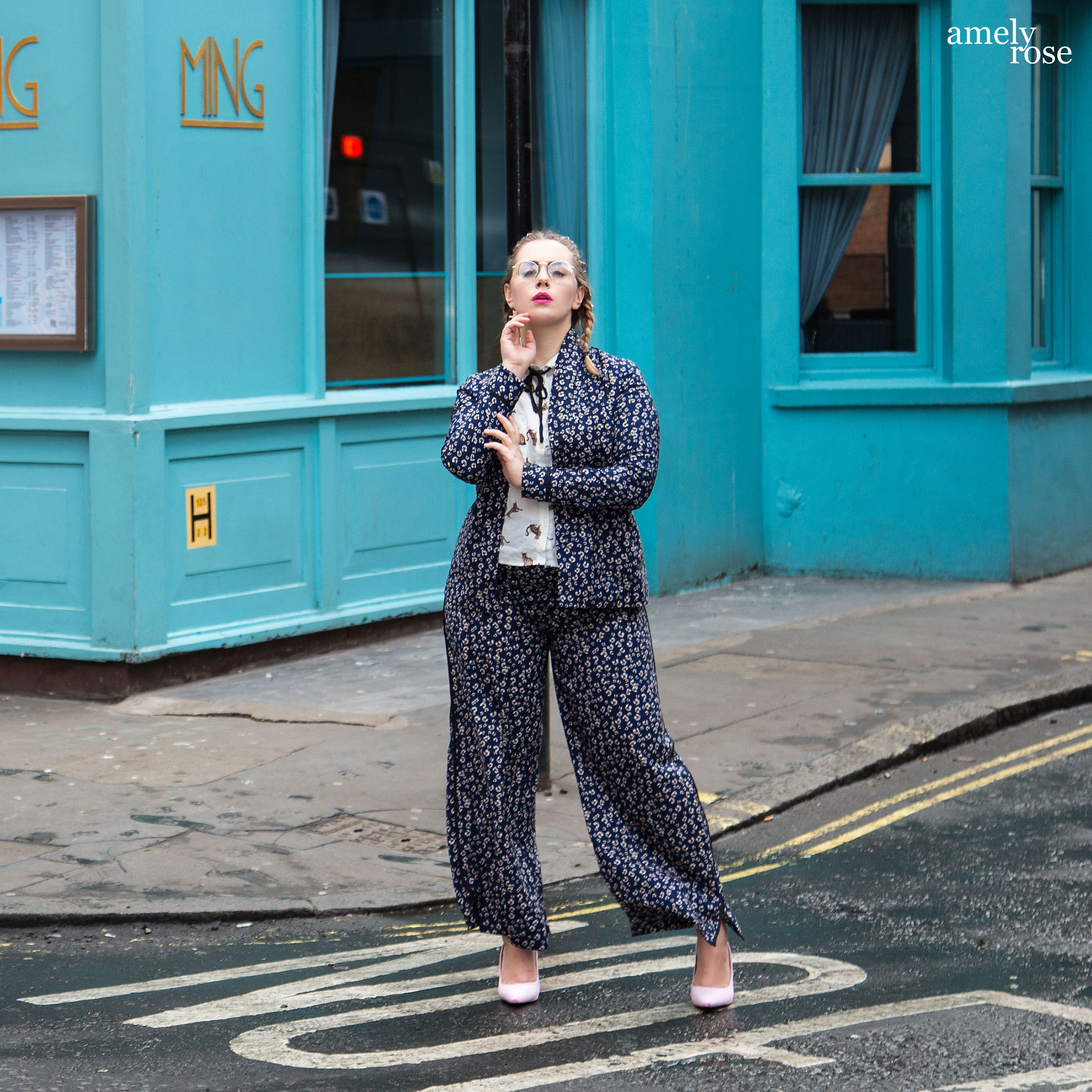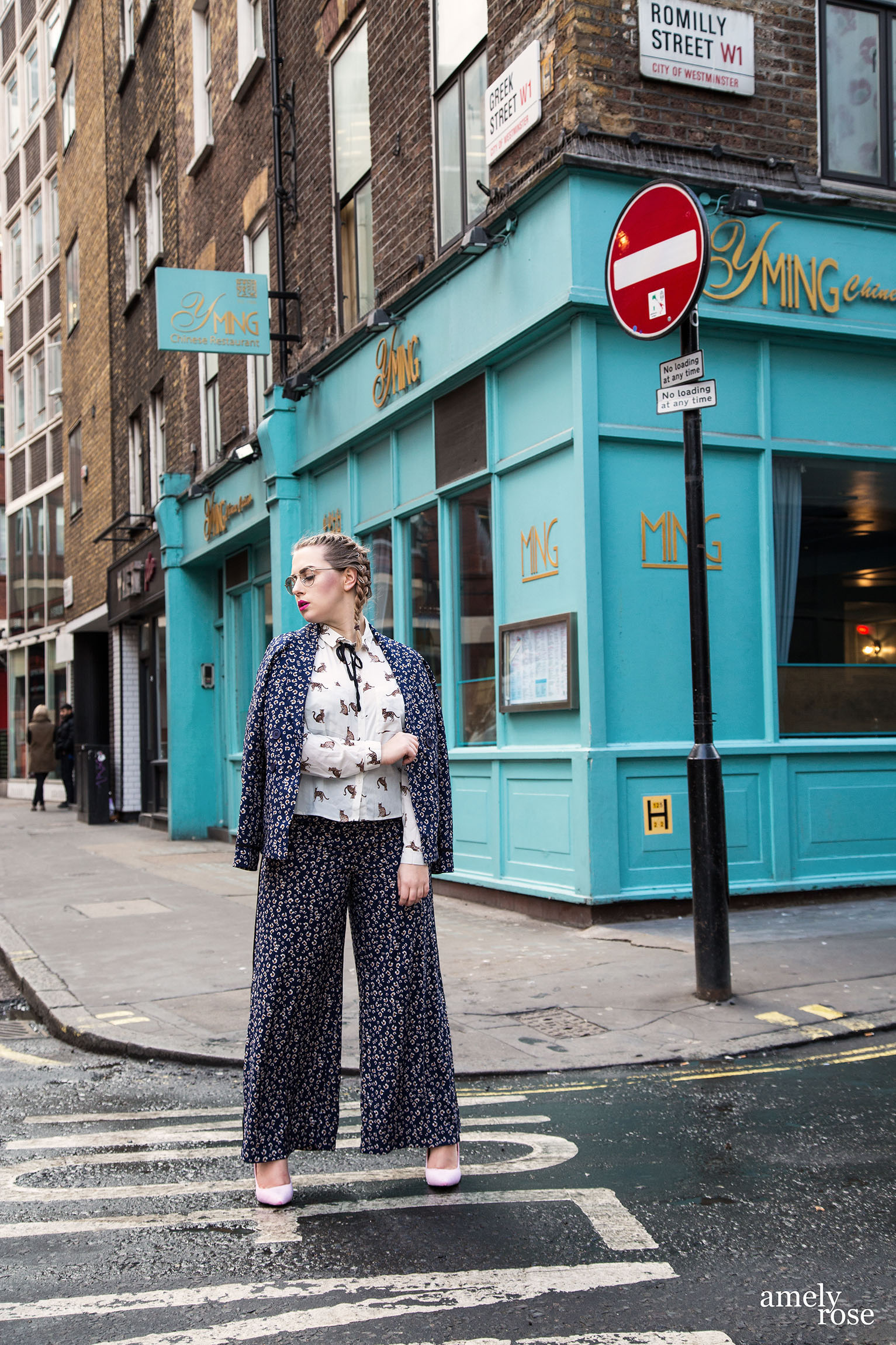 Fun fact, just in case you feel bad about all those well dressed travelbloggers (I also do), wearing amazing heels while exploring new cities and places.
I never look like this in real life when I travel! After the shoot, I swapped the blouse and blazer and put on a thick and comfy knit jumper in an ugly brown colour. I then changed the high heels for sneakers and put on a fluffy, thick blue winter-bomber. I am more the "at least I feel good"-type of traveler. Most of all when I'm exploring a city, the entire day and night.
Furthermore we couldn't get into a few bars, restaurants and clubs, because "we have a dresscode". Seriously, I don't swap my thick, warm and comfy jumper, for an outfit in which I won't survive the cold ferbuar days. Just to live up to "we have a dress code". (Read the sentence with an exclamation mark in your inner, snoby voice).
At least I have a new Look for your in front of a blue restaurant.
LOCATION – do you like this location? I already told you in my first London-Post (HERE), that I started to mention my shooting locations in my videos, vlogs, FMAs. I think, that the solidarity between bloggers is really important and most of all I hate the crappy attempts to hide hints, and most of all, locations.
I searched for these locations for an entire day and I want to save you these pains. I am so excited to see your photos and what you create.
You find the address of this location in this Video HERE.